actually i wanna share something with you all...
there are something yg mungkin sume dah taw...
sejukk mata memandang
did you here this "bdk skola agama ko ingat baek sgt kew"
penah dgr takk...I don't want to condemn them but a lot of my friends always said that...
de plk yg ckp pas bes skola agama sume yg labuh-labuh dah jadi singkat...
mana tah p pelajaran agama yang dorg belajar masa kat sekolah dlu...
mengapa perlu ubah imej jadi macam ney...?
tapi kawan sya ckp takk pelik pown...tuhh namanye dorg tuh culture shock..
dalam erti lainnye kejutan budaya...yelaa mase kt skola agama dulu dorg wajib pkai bju and tudung labuh...
so bla dah kua dari skola tuh dorg mulalah berubah...
tapi amat kesian kann...?
myb parents tyme tuh dah sejuk mata memandang, alih-alih bla anaknya mula melangkah ke ipta dah terdedah sana sini...hancur harapan parents mereka...myb bla dah besar dah boleh jaga diri dah takk perlukan nasihat mak ayah...dah boleh fikir sendiri kowt..tapi cayalah korg tetap perlukan mak ayah...
LEBIH BAEK BUDAK TAKK SEKOLAH AGAMA MACAM KAMI NEY KANN...
but takk semua yang cam tuh...hanya sesetengah jew yg buat cam tuh...
hanya kerana sesetengah budak skola agam yang buat perangai takk semenggah ney laa telah mencemar nama semua budak skola agama...calarkan imej dan reputasi budak skola agama yang takk buat tuh...klu korg takk maw skola agama dulu, korg takk yah laa gedix nak masok kann...?
sya amat respect laa dekat budak-budak skola agama yang masih mengamalkan apa yang korg belajar..
semoga kam00 semua terus kekal dengan imej kam00 semua...:)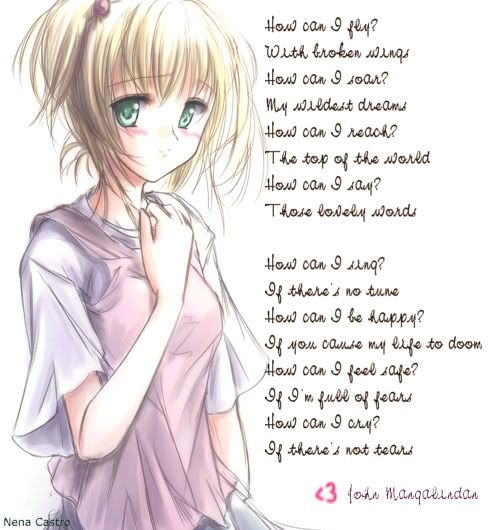 did you all feel that you have to make a decision for your life alone...?
no need help from others..but frankly speaking you still need them actually...
but kam00 takk mahu menyusahkan mereka...let you settle it by yourself..
sometimes we always feel that our decision is 100% true and we didn't want to here any opinion from others..
but sometimes we need someone help us out from our problems...
sy cume nak nyatakan dekat sini...if you have problems feel free to share with trusted people such as BFF or family...it will make you feel more secure and can release you unstable mind...
ade juga keputusan yang we have to make it alone but please remind that ALLAH always be by your side and you're not alone...always remember to do SOLAT ISTHIKHARAH..than you will find the solution of your problems...
akhir sekali JANGAN PERNAH MENYESAL dgn keputusan yang telah kam00 ambil...setelah semua usaha telah kam00 lakukan dan berserah pada takdirNYA...INSYAALLAH de jalannya...